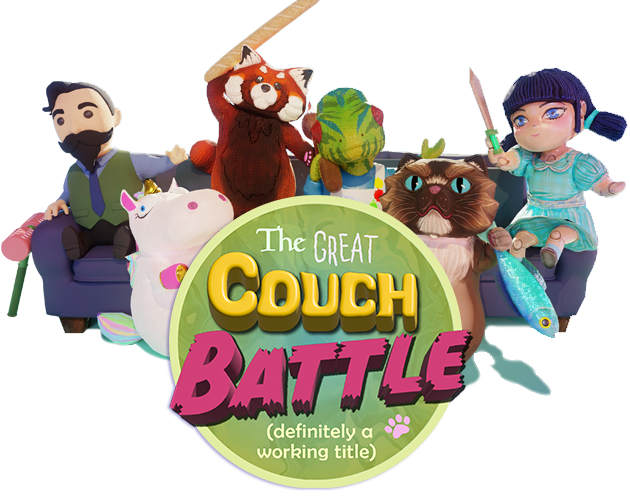 The Great Couch Battle (definitely a working title)
A downloadable game for Windows
Get ready for a kooky and chaotic heckin' good time!
Grab four gamepads* and enough friends to play with them¹, make some popcorn² and cram everyone on the couch³. Then let the games begin!
* The game also supports keyboard(s)
¹ The game supports up to four players, can be played with fewer, and you can always switch players between the matches like good ol' times!
² The game doesn't require popcorn, but it's highly recommended, and in any case you shouldn't eat the ones you find from under the couch cushions
³ Okay okay okay, the game doesn't REQUIRE a couch either, it does run well enough on its own, but without a couch, are you even playing a local multiplayer game?


Five game modes!
BATTLE MODE, in which you whack your opponents to ring-out them!
FLOOR IS LAVA, in which the safety of walkable areas becomes increasingly questionable! Whacking your opponents is highly encouraged!
PAINT THE TOWN, in which you claim sections of the arena to score points, and whack your opponents to prevent them from doing the same!
FOURBALL, in which you try to score by whacking a ball into any of your opponents' goals. There's one for each! Oh, whacking your opponents is also allowed!
CRANE KICK, in which there's no whacking your opponents, but you can whack a rotating beam that's trying to push you off your platform!


Variety of quirky characters and multiple weapons!
You can select your fighter from a cast of six characters and arm them with variety of wacky melee weapons. But don't you worry, The Great Couch Battle (definitely a working title) is a casual whack-a-thon and you don't need to worry about learning character-specific special moves or weapon-specific reaches or any of that nonsense! Just pick a character and a weapon you like the best! You can even change the color palette of your fighter.


Multiple arenas! Selection of match modifiers!
The matches take place on a bunch of different battlegrounds ranging from the zen gardens with blossoming cherry trees to Finnish islets with sauna cottages, and even on girders high above the cloud cover of Submerge City! And if the standard match settings aren't to your liking or the couch demands more mayhem, you can always change the match modifiers before the next match. How about double speed? Heavier ball in Fourball? Different rate to gain points in Paint the Town? Or just... EMBRACE THE CHAOS!

We apologize for the lack of network mode to everyone who's been unable to get four friends on the couch to play video games since 1999.
You should probably get... a better couch?
Debuted at Assembly Summer 2023 Game Development compo in third place.

| | |
| --- | --- |
| Status | In development |
| Platforms | Windows |
| Authors | Puiseva, Story Games, Garbuend, jorael, tsarom, FearJudge, SirHenry |
| Genre | Fighting, Action |
| Tags | Casual, Controller, Cute, deathmatch, Funny, gamepad, Local multiplayer, party-game, Unity |
| Average session | A few minutes |
| Multiplayer | Local multiplayer |
| Player count | 1 - 4 |
Download
Download
TGCB_Assembly23_Gamedev_compo_build.zip
286 MB